Joel Hughes is the Executive Director of Rainbow's End Youth services.  Having degrees in both Accounting and Theology, Joel enjoys speaking to both business leaders and churches.  Prior to joining REYS, Joel served as Executive Pastor at a local church in Berks County for four years and also previously spent seven years in the banking industry.
Joel and his wife, Laura, live in the Mount Joy area and enjoying spending time with one another and with their five children- Jackson, Emily, and the Triplets – Tyler, Lincoln, and Allison.
Joel also enjoys basketball, ping pong and the occasional game of competitive scrabble.
Joel would be glad to share with your church or community group about REYS Youth Center and how you can be involved in reaching the children and young people of Mount Joy and the surrounding Lancaster County area.
You can reach Joel by email at jhughes@reys.org.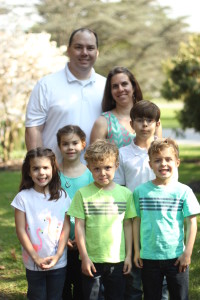 Joel and Laura with their Five Children